Disclosure: As an Amazon Associate Just Creative Designs earns a commission from qualifying purchases.
Drawing Tablets with Screens are the most popular type of drawing tablets you can buy. Most professional level drawing tablets used to be very expensive and very limited in terms of alternatives you can choose from.
The best thing with Drawing Tablets with Screens or Pen Tablets is that there is something for every level of artist, whether a pro artist or a hobbyist looking for cheap Drawing Tablets with Screens.
Whether you choose a drawing tablet that needs a computer but has its own inbuilt screen or a fully portable stand alone tablet, the speed and efficiency of your work flow will greatly increase.
Understanding Drawing Tablets
Before we start reviewing the products, it is important to explain 3 categories of tablets you can choose.
Graphic Tablets
Graphics tablets have no screen and must be connected to a computer to use. Once you connect to your computer, they use the computer monitor as their screen and you can draw while looking at it.
Graphic Tablets are simple and some of the cheapest tablets you can buy. They are ideal for beginners or when you are on a very tight budget.
Pen Display
Pen display tablets are a little more expensive and complex compared to Graphic Tablets. Although they both need a computer to use, the Pen Display only needs the computer for software hosting because it has its own screen but no CPU.
Tablet Computers or Standalone Tablets
These ones are more sophisticated and have both a computer and an inbuilt screen. The do not need to connect to a computer to use.
As competition between top brands has continued to increase over the years, it is possible to got very cheap but equally effective Graphic Tablets. Due to this however, it is not easy to choose the best one for your needs, That is why we decided to create a full guide for you.
Which is the Best Drawing Tablet With Screen
In this article we will review the Best Drawing Tablet With Screen you can buy. We will review pen display tablets but you can check our previous post on cheapest standalone drawing tablet if you prefer a fully portable tablet.
10 Best Drawing Tablets With Screen For Digital Art And Animation
Drawing Tablet With Screen top 10 picks
Best Drawing Tablet With Screen
Xp Pen Artist 22 is of the best drawing tablet with a screen you can buy. The massive 22 inch display size sets it apart and makes it a top pick for both beginners and professionals.
The textured screen is matted and glare free good for long hours working. Additionally has a high HD 1080 pixel resolution and has exceptional color accuracy, thanks to the 86% NTSC (Adobe RGB≥90%,sRGB≥122%) color Gamut.
What is Color Gamut
Color Gamut, simply refers to the number of colors a tablet screen or a digital screen on any device can achieve. A wider or higher color gamut means that the colors are richer and more vivid. A good computer monitor display screen shows colors around 70 to 75% color Gamut.
Stylus Pen
The Artist 22 comes with a battery free Xp pen PA 6. This means, you will not have to charge it to use all the time. The USB connection for the pen makes it flexible whether you are on MAC or PC.
Pen pressure and tilt recognition make for a great experience at 8192 pressure levels and plus or minus 60 degrees tilt recognition.
Pros
Large Screen size
Affordable
Great Display
Battery free USB stylus pen
Cons
Lacks Shortcut Keys only 2 buttons on the pen
Not easily portable
Not a standalone tablet
Best huion drawing tablet with screen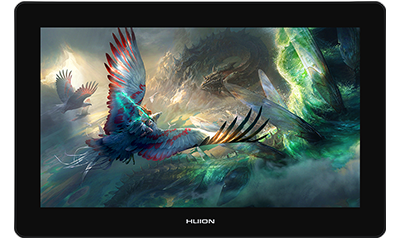 The Huion Kamvas Pro 16 is the best 16 inch drawing tablet with a screen that you can buy. As a pro level tablet, it has some powerful features that will suit any beginner or professional digital artist.
The tablet is also good for both 2D and 3D animators, photo editing and rendering thanks to its great display.
Screen and Display
The 15.6 inches screen is large enough for making the drawing experience comfortable and enjoyable. Apart from the size, the screen displays images with a new clarity level, thanks to the 4K UHD display resolution.
This is 3840 x 2160 Pixels and 4 times better than HD display. Huion kamvas pro 16 plus is one of the very few 4k display tablet in the market today.
When most tablets are viewed at an angle, the screen reflects most of the surrounding causing distractions. The Kamvas pro plus screen applies antiglare technology that eradicates this problem.
Additionally the screen has tilt recognition at up to 178 degrees. This means that you can still view a high quality image display even when viewing at an angle.
The tablet displays 8 bit color or 16.7 million brilliant colors with perfect color accuracy, thanks Quantum dot technology. They seem like real life and vivid with wide 145% sRGB color Gamut.
The screen has a high contrast ratio 1:1200. Contrast refers to the difference between the bright and dark areas of an image. A larger contrast means the image displays darker blacks and brighter whites.
The stylus pen is one of the most important considerations for a drawing tablet. The Huion kamvas pro 16 plus comes with PW517 digital stylus, which is almost as good as Wacom Pro Pen 2 by Wacom.
As a digital artist, sometimes you will need to work for long hours. The stylus pen's body is built in a shape that is comfortable to be used for long hours without fatigue. Additionally the pen has customizable buttons that help you work faster by setting them to your most used brush sizes.
Plus or Minus 60 degrees tilt recognition allows you to draw lines easily and naturally. Unlike cheaper tablets such as the Simbans Picasso, the pen is battery free and you do not need to keep charging it.
High 8192 pressure sensitivity gives a natural paper to pen like feel when drawing.
The pen features a reduced distance between the pen tip and contact area of the screen making it highly accurate without lags. This is ensures zero parallax view.
Short Cut Keys
Although the pen has some shortcut buttons, the tablet lacks customizable buttons and you have to buy Huion's shortcut accessories separately.
Pros
Large screen size
4k screen resolution
Battery free Huion Stylus
Perfect and accurate color quality
Professional level
Cons
Expensive for beginners
Not a standalone tablet
No shortcuts on the tablet
Huion and Wacom are some of the top brands in the digital art tablet industry. We have previously compared their best standalone tablets. We reviewed Wacom Studio and Huion Studio. When it comes to Pen tablets with 4k resolution like Huion Kamvas Pro 16 plus, Wacom gives us Wacom Cintiq pro 24.
Screen and Display
Wacom Cintiq pro 16 comes with a very large 23.6 inch screen far much bigger than Huion Kamvas Pro 16 plus. There is also a 32 inch screen size you can opt for. This sizes are great for any artist but what is even better is the 4k display 3840×2160 pixels resolution.
It has a 99% Adobe RGB color gamut making it highly color accurate screen. The screen can display up to 1.07 billion colors. It is good in handling high color sensitive work.
The very large screen size may be uncomfortable to use. Wacom has added 2 foldable legs at the back that you can use to support the table. If you however want more comfortability you can buy Wacom Ergo Stand, Cintiq Pro 24.
Wacom Pro Pen 2
The tablet comes with one of the industry's Best stylus for drawing. The pen just like the Huion Kamvas 16 pro plus pen, has 8192 pressure sensitivity levels and plus or minus 60 degrees tilt recognition. This allows a natural pen to paper like drawing experience.
Pen tip closeness to the drawing section on the screen ensures zero parallax and pen lags.
The ergonomic design and shape of the pen is also perfect and comfortable for long drawing hours.
Shortcuts
Wacom Cintiq pro 16 comes with a free Wacom Express key Remote with 17 customizable shortcut keys. All the keys are programmable and you can use them to speed up your work flow.
Pros
Best  Drawing Stylus pen
4k Resolution
Large 24 inch and 32 inch screen size
Free wireless shortcut remote
Cons
Expensive
Not standalone and must be connected to a computer
Uncomfortable without a stand
GAOMON PD1161 Cheap Drawing Tablet With A Screen
GAOMON PD1161 is a one of the cheapest drawing tablet with a screen you ca buy. With slightly under 200$ price, and great features, this tablet is an ideal beginners drawing tablet you can start off with.
Screen and Display
The screen has a high 1920×1080 HD screen resolution which is good and high quality although not as good as the 4k tablets discussed but surely better than the Simbans Picasso tab. The screen size is slightly bigger than the Simbans at 11.6 inches. This is a good size for drawing and note taking.
The screen comes with a protective film that protects the screen from scratches and environmental factors. You can later peel it off and use the PD1161 screen. It comes with a 100% sRGB color gamut so it might not be able to achieve color quality like more expensive devises but is good enough for its price.
Gaomon PD1161 Pen
The Gaomon PD1161 pen is good and matches top range pens in some features. For instance the pressure sensitivity is 8192 and plus minus 60 degrees tilt recognition just like Wacom and Huion stylus pens.
The battery free pen comes with 2 programmable buttons you can use to speed up work flow.
Shortcut Keys
Unlike Huion Kamvas Pro 16 plus and Wacom Cintiq pro 24 that have a separate remote, the Gaomon PD1161 has 8 programmable keys on the body of the tablet.
Pros
Cheap
Good battery free Pen
Easily portable
8 programmable shortcut keys
Best Xpen drawing tablet with a screen
The Xp Pen 15.6 pro is another top contender for the top spot. Just like Huion Kamvas16, the display is fully laminated, 15.6 inch in size and also has a resolution of 1920×1080 plus 120% sRGB color. The lamination ensures you work free of environmental reflection from the screen that may be a distraction.
The pen PO5R stylus just like Huoin is both light and supports tilt function at + or – 60 degrees to mimic a real brush effect.
The Xp Pen Artist 15.6 Pro comes with 8 fully customizable keys just below the screen that you can set to any quick function you want. Depending on your effective application, these will greatly speed up your work flow.
Although you will enjoy many great features that come with a more expensive tablet at a great price, the XP-PEN Artist 15.6 Pro is not fully portable tablet and will need to be connected to a computer. Overall a great pick especially for the price range.
Pros
Large display area
Fully laminated screen
GAOMON PD 1560 a competent Wacom rival and just like the XP Pen pro has a large display area of 15.6 inches and a full HD resolution of 1920by 1080.
It also has a laminated screen with minimal parallax that makes drawing more accurate, and a color gamut of 72% NTSC which is relatively low but sufficient for design creative.
Gaomon pen tech 3 has a high pressure sensitivity of 8192 and is firm and does not wobble when drawing. Additionally, it comes with 10 programmable express keys 2 more than the XPEN Pro 15.6.
Connection to a computer may be a challenge for first timers but once you get the hang of it its easy. Try checking your drivers if you encounter problems.
We recommend 15 inches for the best drawing tablet screen. However, 13 and 11 inches tablets are quite decent and cheaper if you are on a budget too.
Pros
Large display area
Affordable
Cons
Low color gamut
Not fully portable
Connectivity is not straight forwad
Best 13 inch screen drawing tablet
Huion KAMVAS PRO13 is a good choice for both artists and graphic designers. What drew us to love this drawing tablet is its price. Generally, with a low budget, you don't expect to get a tablet with high-end features like this Huion KAMVAS PRO 13.
It comes with a pen with about 8192 levels of pen pressure with a tilt recognition of 60°. With that pen pressure, you get to experience a natural drawing experience. The tablet is slim sleek and vey light weight.
4 keys under the screen make usability easy and a fast work flow when you get used.
Unfortunately the Huion KAMVAS PRO 13 also not fully portable and needs a computer connection. Although a great pick at a great price, the screen size is a smaller compared to GAOMON PD1560 15.6 and Xp Pen Artist 15.6 Pro that have a decent 15 inch screen.
Pros
Laminated anti-glare screen
Incredible stylus pen
Comes with stand
Cheap
Cons
Has few shortcut keys
Smaller screen
Not fully portable
Best drawing tablet for Beginners
Wacom One delivers a great experience to those starting digital creations. It standsout as a great beginner tablet because it is one of Wacom most affordable drawing tablet, plus connection is easy and straight forwad.
The screen has a textured film on it which gives it more grip while you're drawing, and it can also use any Wacom compatible pens.
The Wacom one has a battery free pen with 4096 pressure sensitivity with a 600 tilt.
Unfortunately the Wacom One just like Huion KAMVAS PRO 13 is not fully portable and needs a computer connection. The 13 Inch screen size is smaller compared to GAOMON PD1560 15.6 and Xp Pen Artist 15.6 Pro that have a decent 15 inch screen.
Lack of navigation buttons also make the device a little difficult to start off for beginners but it gets easier on the second attempt.
Pros
Good display
Easy connectivitY
Cons
Relatively smaller screen
Best 13 inch screen drawing tablet alternative
The Huion Kamvas 12 is the best choice to be your first pen display with the high cost performance with its 11.6 inches full HD display and a screen resolution of 1920 by 1080.
It also has a laminated screen which helps with drawing accuracy and a mate anti-glare screen to help with reflections.
It can be plugged to certain android phones and laptops.
The Kamvas 12 has a pen with a pressure level sensitivity of 8192 and a 600 tilt.
Pros
Has mate anti-glare screen
Compatible with the android
Solid build quality
High quality pen that does not wobble
Cons
The 11.6 display makes elements look smaller.
Stand sold separately
At the top of our best overall list is the Huion Kamvas Pro 16. With this Tablet you get the premium tablet feel for a great and reasonable price.
First of all the 15.6 inch screen size is perfect as per our recommendation for a great size drawing tablet with a screen. Additionally, the 1920 x1080 HD screen resolution ensures a crisp and clean view of your work and you can easily bring out your best work.
The screen is laminated so there is no chance of collection of air bubbles and dust particles like would be the case in a non-laminated screen. The tablet screen is also calibrated on purchase and already displays standard quality color.
Pros
Good design
Solid quality build
Quality color
Cons
Android support not all that useful
How to Choose a Good Drawing Tablets With Screen
The search for a good drawing tablet on the internet can be annoying especially if you are not sure of the exact features to check for your requirements. This simple guide will help you easily know what to check and why when choosing your ideal tablet.
Screen and Display
When it comes to the screen, the first thing youneed to check is the working area size. The bigger the screen the better your drawing experience will be. However, if you intend to carry your tablet around from place to place then a smaller device is better for portability.
If you will need to show and present your work on the screen for others to view and critic or for clients to view, then you need to consider a screen with antiglare glass technology.
What is anti-glare glass?
Antiglare influences how your screen interacts with environmental light. It ensures the tablet image and screen does not affect your view when light hits your tablet screen. This saves your eyes the stress and strain of different light directions affecting your image.
Laminated vs Non-Laminated Display
A tablet screen is made of 3 layers. In a laminated screen, all the 3 layers are fused together to form one single layer. On the other hand, non laminated screens have all the 3 layers attached together with glue. So which one is better?
Laminated screen are more clear because the spaces and air bubbles created in the glued layers in non laminated screen eventually affects the clarity of the screen
Pressure Sensitivity of a Stylus
A pressure sensitive stylus is a requirement for graphic designers and artist. If it does not come with one check the best compatible one with the tablet and confirm whether it is compatible. You also need to check whether it is battery free or you have to keep charging it.
Tablet Stand – Comfort and Ergonomics
Ultimately, how comfortable you are when creating or working can impact the final outcome of your work. For comfort when working, you can consider investing in a stand for your tablet. This is a neccesity especially when you have a very large tablet.
Wired vs Wireless Drawing Tablets
A wired or wireless tablet covers how the pen connects to your tablet. A wireless tablet connects on bluetooth without wires while a wired one will connect through a wire. Overall, a wireless one is more comfortable to use although all other features are the same.
Top picks for Drawing Tablets With Screen
About Author